From tax records to client information, your data is essential to running your business. When it's lost because of an unanticipated disaster or even worse, it is stolen, you need to make sure you can recover that data so your business can continue to thrive and grow without losing clients.
What is business continuity and disaster recovery?
In simple terms, it's peace of mind. In more complex terms, business continuity and disaster recovery is the processes, procedures, and technology that ensure your core business functions are not severely impacted by a disaster or unplanned incident that take critical systems offline or destroy data. We work with your organization to identify and prioritize the systems that need to be recovered in the event of a disaster and then help you execute that plan to minimize downtime in your business.
Did you know?
140,000 hard drives fail in the United States each week
A new organization fell victim to ransomware every 14 seconds in 2019
94% of companies suffering from a catastrophic data loss do not survive – 43% never reopen and 51% close within two years
70% of small firms that experience a major data loss go out of business within a year
77% of companies who do test their tape backups found back-up failures
50% of all tape backups fail to restore
67% of data loss is caused by hard drive crashes or system failure
14% of data loss is caused by human error
10% of data loss is a result of software failure
Accidental or malicious file loss or deletion can result in tremendous inconvenience to your business operations, your employees, and your clients. A proper business continuity plan and disaster recovery solution can protect against permanent data loss and provide for quick recovery of systems and data.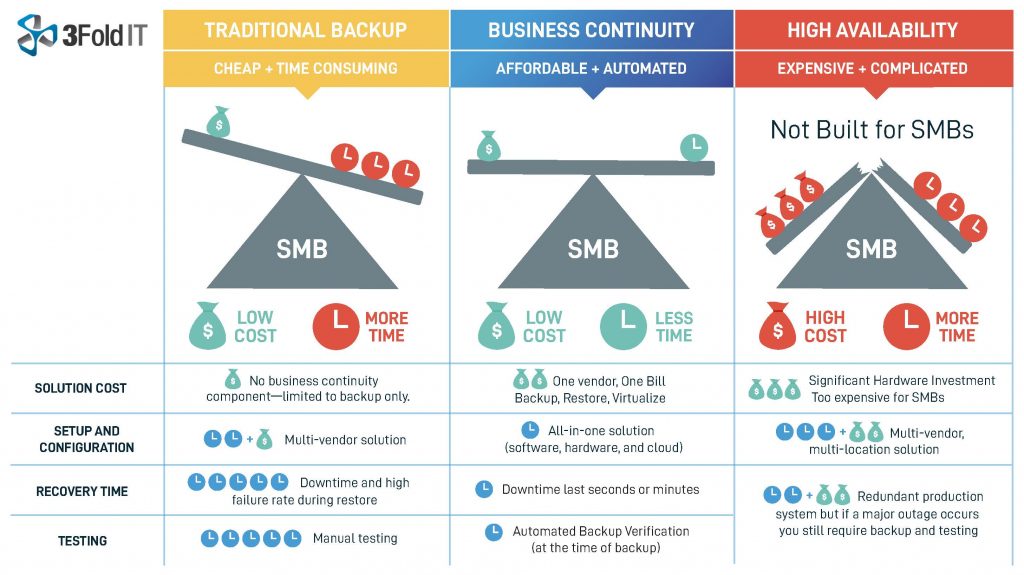 Some key benefits of a business continuity and disaster recovery solution from 3Fold IT are:
Eliminate human error – Automate local and cloud backups so you never have to worry about forgetting to bring that USB drive home again.
Protect data – Storage in local backup appliances and off-site data centers ensures geographically redundant backups and protects against ransomware that targets backup solutions.
Recover quickly – The ability to mount a backup image as a virtual machine on a local appliance or in the cloud allows us to recover entire systems in minutes, not hours or days, protecting your business from huge losses in productivity and client dissatisfaction.
Ensure backup integrity – Backup images are mounted as virtual machines in the cloud and screenshots are taken of the running system to confirm that your backup will run in the event of a disaster.
Fulfill compliance requirements – Set custom backup retention policies for both local and cloud backups to meet a variety of compliance requirements.
Regardless of your Greater Milwaukee Area business size, you need a dependable data backup and recovery solution that can safeguard your business from the unexpected. 3Fold IT can show you how – call today and protect your company.